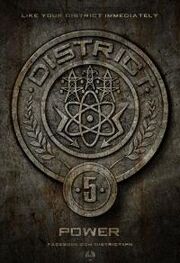 "Electric, solar, and nuclear - District 5 harnesses the energy of the earth and the sky in order to power our great nation.
The female tribute of District 5 won the 1st Pain Games.
At the 1st Pain Games, both of the tributes of 5 were in the final 5.
During the 2nd Pain Games, the first three tributes were killed by Luke de Winter.
District 5 is joint with 1 for the least bloodbath deaths, with only Marek.
Ad blocker interference detected!
Wikia is a free-to-use site that makes money from advertising. We have a modified experience for viewers using ad blockers

Wikia is not accessible if you've made further modifications. Remove the custom ad blocker rule(s) and the page will load as expected.