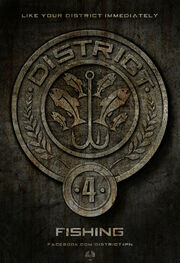 "Do you like seafood? Shrimp and crabmeat? Often overlooked, District 4 plays an essential role, bringing us the bounty of the sea. These citizens are adept with nets and tridents, and can swim like fish themselves.
Half of the tributes have died in the bloodbath, neither in the 1st, both in the 2nd and Oath and Ciara in the 3rd.
Ad blocker interference detected!
Wikia is a free-to-use site that makes money from advertising. We have a modified experience for viewers using ad blockers

Wikia is not accessible if you've made further modifications. Remove the custom ad blocker rule(s) and the page will load as expected.